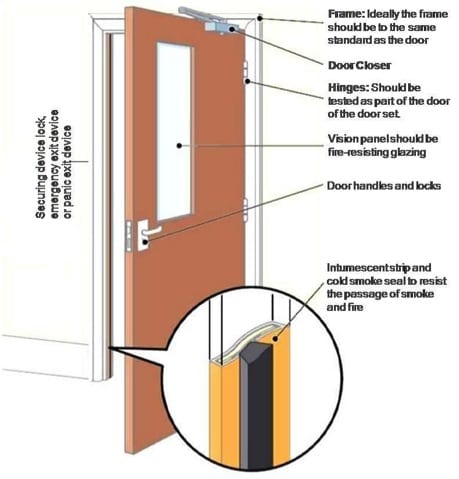 Fire Doors are unique in their manufacturing, their installation and their inspection. Choosing a company that is trained in the proper installation and inspection process is critical to helping to you provide the safety and security you expect. Fire doors fall categories include:
* swinging; * horizontal sliding; * sliding special purpose; * vertically sliding; * rolling steel; * fire shutters; * service counter; * hoistway doors for elevators and dumbwaiters; chutes; and access.
Fire-rated doors are an integral part of not just the building's passive fire-protection system but the building's overall fire protection. A properly operating fire door, just like a properly operating fire damper, is a key component in the compartmentalization of a building to stop the spread of deadly fire, smoke, and toxic fumes and gases. For the fire door to operate successfully the entire fire assembly must operate, and the fire door is just one part of the overall fire assembly.
The assembly is composed of the fire door, frame, fire exit hardware, door closers, hinges, locks, door bolts, and other door components that when combined provide varying degrees of fire protection that is contingent on the door fire rating (e.g. 45 minutes, 90 minutes). In addition to all of the components of a fire door assembly there are multiple categories of fire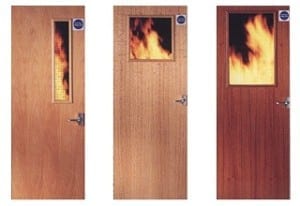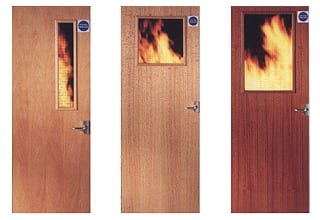 doors: horizontal sliding; fire shutters; swinging; vertically sliding; chutes; and overhead rolling fire doors.
Combining the critical role fire doors play in fire protection, the varying types of fire doors, the multiple components that comprise a fire assembly, with the high frequency that fire doors are used on a day-to-day basis in building occupancy the likelihood of a fire or smoke door not being in optimal condition to protect occupants in the event of a fire is quite high. Fire doors and door hardware are subject to failure due to the constant usage they take in high traffic areas, such as busy corridors in hospitals and schools. Constant usage can lead to misalignment of the door which could potentially lead to failure of the door to close in the event of a fire, which NFPA claims to be the most common failure of fire doors during an actual fire.
Other common non-compliant issues are holes or openings in the fire door assembly, improper gaps, missing labels, failure of latching hardware to operate, missing screws, door coordinator operates improperly, non-working self-closing devices, missing gasketing,  improper kick plates (protective plates) sizes, improper field modifications, and numerous other problems.
NFPA 80 states, "Fire door assemblies shall be inspected and tested not less than annually, and a written record of the inspection shall be signed and kept for inspection by the Authority Having Jurisdiction (AHJ)." The requirement to inspect fire doors and maintain them in good working order isn't a new requirement at all; it has been a part of NFPA 80 recommended practices for years. The 2007 edition of NFPA 80: Standard for Fire Doors and Other Protectives, however, actually makes this mandatory and no longer merely a recommendation.
Priority Doors can provide Fire Door Inspections on all types of Fire Doors!
Inspecting fire doors
Watch this short video to see why this is so critical! Be sure to pay attention to the flames through the fire rated glass
Priority Doors has also developed a database which can * track the history of your doors, * quickly generate reports showing pass/fail ratios as well as other key inspection elements Since Priority Doors wrote and developed this database, it can be customized to suit your needs
---
How to choose the Right Fire-Rated Door?
Check the local building code and the authority having jurisdiction to determine the rating of the fire door you need.Fire Label: Will need to be attached.  This is the agency approved certified or labeled doors, frames, and anchors for minimum ratings required by code.

Fire Ratings by Hour & by Letter-Designation:
Class "A" (3-hour)-Openings in firewalls that divide a single building into fire areas.
Class "B" (1 hour)-Openings in enclosures of vertical shafts and stairwells through buildings and in 2 hour rated partitions providing horizontal fire separations
Class "C" (3/4 hour) – Openings in walls or partitions between rooms and corridors having a fire resistance rating of 1 hour or less.
Class "D" (1 1/2 hour) – Openings in exterior walls subject to severe fire exposure from outside the building.
Class "E" (3/4 hour) – Openings in exterior walls subject to moderate or light fire exposure from the outside of the building.
No letter designation (1/2 or 1/3 hour) – Openings in walls or partitions between rooms and corridors having a fire resistance rating of 1 hour or less. Note that these doors are not really considered fire doors, but rather used for smoke control only.